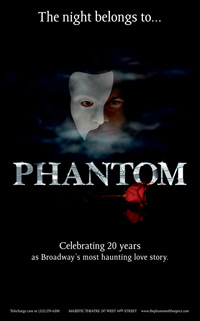 In Phantom of the Opera,  Christine's compassion for the Phantom leads to transformation:  the Phantom's heart softens and he lets Raoul and Christine go free, he himself is set free from his bitterness and hatred, and he escapes the mob after physically transforming himself to elude capture.
Think about other stories you have read or seen in which a character  shows compassion for another.  How did that compassionate act change a character or move the story in a new direction?  Name the story or character and share your observations.
Another way to think about the question is to turn it around:  can you think about a story in which the withholding of compassion has turned a character or a story in a different direction from what it might have otherwise gone?
Can these questions apply to nonfiction as well as to fiction?  You may answer with a nonfiction example if you prefer.
Write a comment in order to respond to the question, or respond by elaborating on another student's comment.
Image credit: Phantom of the Opera. Digital image. The Phantom of the Opera Official Website. Cameron Mackintosh, Ltd., 2008. Web. 26 Feb. 2014.