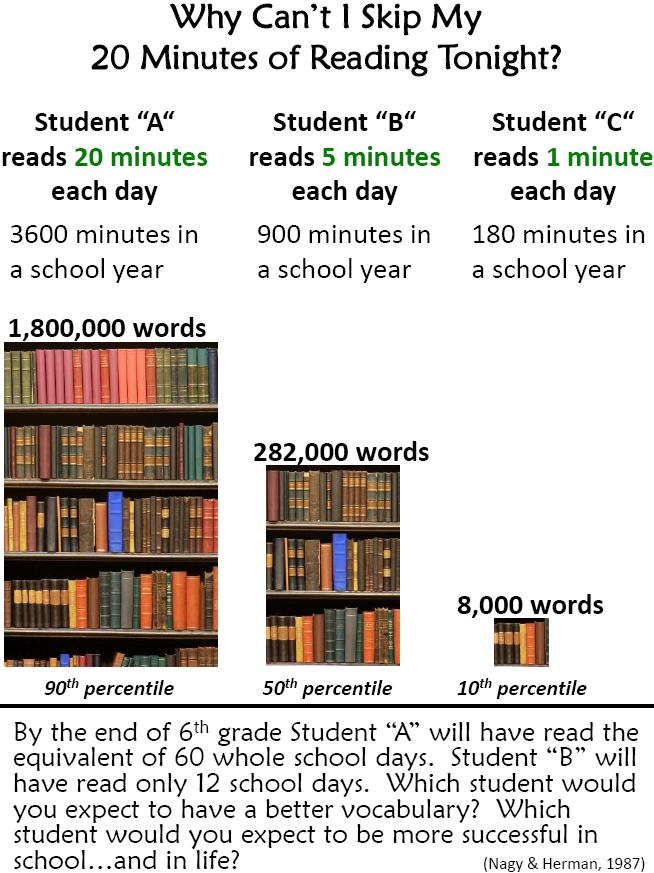 The message of the above graphic is one we already know:  reading is important, and reading every day fosters academic strength.  Chances are that the more you read, the better student you will be…the better thinker you will be.
At the seventh grade level, we ask that you strive to read 800-900 pages in a nine-week time period, that you log the titles of the books you read, and that you obtain a parent signature next to each title as corroboration of your reading.  Reading that many pages means reading regularly, even though you may not keep to a 20-minutes-a-day schedule you had when you were younger.  We all have more time to read some days than we do on others.
Recently, we teachers have lifted the requirement that you read at least one book of a specified genre per nine weeks.  The most important thing isn't what you read, but that you read.  I appreciate these words by educator and reading expert Donalyn Miller: "Reading belongs to readers, not to teachers. If we want children to see reading as anything more than a school job, we must give them the chance to choose their own books and develop personal connections to reading, or they never will."
We've made that small change, but I'm thinking there need to be more changes.  I'd like to open a conversation about how we do reading at school, and I'm asking for your input.  Parents, feel free to add your thoughts, too.
Independent, Sustained Silent Reading is something we used to do daily in seventh grade when ELA classes were 84 minutes long.  I'd like to find time for ISSR again at school. Some schools with only one period of ELA have their ISSR time one period each week or once every seven school days.  Others use the first ten minutes of every period.  What are your thoughts about how often and how long we should have independent reading in the classroom?
Reading Logs don't have to be lists of titles with signatures.  If we are reading at school again on a regular basis, there could be time for reading conferences with the teacher.  With our iPads, we could record small group conversations about what's happening in our books and turn in those conversations.  What would be your preferred way of receiving credit for your reading?
Regular library visits are important to supporting an ISSR program.  Should we start going to the library every two weeks? Some students have said they have trouble finding a book to check out, so perhaps we should arrange for Mrs. Martinez to spotlight some titles for us each time we visit.  How do you think we could make the most of regular trips to the school library?
Parents and students, I look forward to hearing your answers to these questions (and any other thoughts you may have about reading) in the comments section of this post.